Best Cape Town Events March: Boogie, Bubbly & Carnival!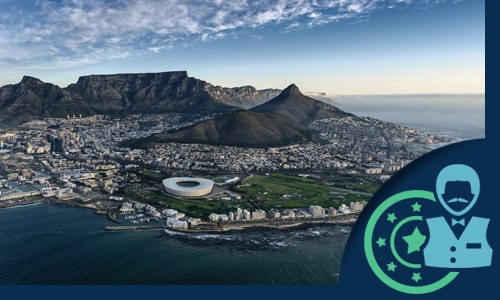 If you're finding the golden beaches, boutique wineries and pubs and clubs of Cape Town a bit of a bore, there's a packed events schedule in March that'll make you love the Mother city more and more.  There are festivals, carnivals and all-night parties; horse races, cycle races and gallery events... plus a smattering of cultural stuff designed for the more 'high brow'.
So if you're into entertainment with a capital 'E', make your way to the dazzling jewel of the Western Cape and party long and hard... or until you drop.  To ensure you get the best out of Cape Town as summer slowly draws to a close, here are five sizzling festivals and events destined to make a March Hare or Mad Hatter out of you!
9 to 11 March - Clubbers Camp Out @ Silverstroom Strand   
If you dig clubbing in the wild outdoors, the annual Clubbers Camp Out has to be on your to-do list.  You'll be able to dance the weekend away with the moon high above and the Atlantic Ocean laid out at your feet. 
And if you fancy a bit more luxury than an ordinary two-man tent, you can hit the Glamp Zone where controlled access, serviced toilets, ice and wood deliveries, hot water showers, free WiFi and a super exclusive bar area serving way out victuals are part of the party package.  That means you can bop, braai and bet the big bucks at an online casino South Africa without leaving the precinct of the beach!
Clubbers Camp Out is one of the defining highlights of the late Cape Town summer.  So... pack your tent and all your little party goodies and head up the West Coast for a bit of glamping with serious surround sounds built in.  Tickets are available online right now at Computicket or you can take a chance at the gate.
16 March - The Macaron and Bubbly Experience @ The Bree Street Studios     
 Do you fancy a never ending supply of carefully cultivated Cap Classique paired with a Macaron menu?  Well...if you love South Africa's effervescent sparkling wine as much as I do, it's simply a matter of swallowing a couple of Essentiales and loading Bree Street Studios onto your GPS.
You'll have virtually the whole day to sample the delicate flavours of Rose, Demi-Sec and Brut sparkling wines lovingly hand crafted at local wineries.  But if the piquant tang of bubbly starts to wear thin, there's a cocktail bar and exciting gin and tonic infusions to whet the appetite.  In addition to the macaron menu, there are tempting tasting areas showcasing nougat, coffee and chocolate... yum!  If you enjoy the good things in life, the Macaron and Bubbly Experience is where hedonism and Bacchanalia meet under the African sun!
17 March - Cape Town Carnival @ The Fan Walk Green Point 
March is synonymous with carnival and this year you can expect a bumper edition of cross-cultural sights, sounds....and samba. Dazzling costumes, beautiful people and perfectly designed and constructed floats are standard fare at the Cape Town Carnival.
This year's theme is 'Mother City Mother Nature', so you can anticipate more than 2 000 musicians and performers - and all sorts of awesome natural expressionism - showcasing the city's floral kingdom, inner city nature reserve and iconic flat topped mountain.
The Cape Town Carnival parade kicks off at 7pm on the Green Point Fan Walk and is followed by a party suitable for the whole family.  It's the perfect way to celebrate the diversity and uniqueness of one of the oldest cities in Africa. 
23 & 24 March - Cape Town International Jazz Festival @ Cape Town International Convention Centre      
The Cape Town International Jazz Festival is 'Africa's Grandest Gathering' of local and international jazz artists.  It's fast become one of the iconic events on the global calendar... and with performers travelling from as far as Ethiopia, India, New Zealand, Brazil, the USA and the UK; the 2018 event is destined to sparkle.
With multiple stages and more than 40 artists performing over two nights, the festival is the largest music event on Sub-Saharan Africa.  One of the highlights of the Cape Town International Jazz Festival is the free community concert that's scheduled to take place on Tuesday 20th March at Greenmarket Square. 
Tickets are currently available online at Computicket.  Be sure to get down to the CTICC and get your fill of the likes of Black Motion, Mi Casa, Simphiwe Dana, Trombone Shorty, Incognito and Seu Jorge in a tribute to David Bowie.
24 March - Elrow Cape Town 2018 @ The Castle      
Two glorious beachside destinations collide when Elrow struts its stuff at the Castle on March 24th.   From Ibiza to Cape Town, paaaarrrttttyyyy is the main event.  And if you want to be one of the hip smacking, foot stomping gigsters who gather to listen to the cool tunes of the top DJs on the planet, it's probably a good idea to buy your tickets today. 
The international road show has wowed live audiences in more than 50 cities across the world... and now it's Cape Town that's going to be blown off its feet.  And if you're wondering what sort of line-up's planned for the main event; you'll rock to the beat of the likes of Sexy Groovy Love, Bridges for Music, Kinky Disco, Strange Loving and We House Sundays... awesome!