After the Online Casino for South Africa, SA's Best Land-Based Casinos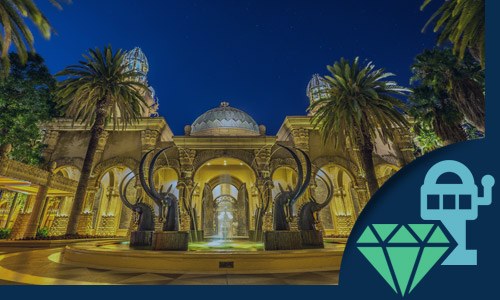 Casino venues in South Africa are located in many regions, giving players throughout the country the opportunity to enjoy a casino adventure of fun and excitement. South African residents and visitors have a wide selection of casinos from which to choose, from small, simple casinos to luxurious, opulent casino venues and online casino for South Africa sites. 
South Africa and Casinos
Casino gambling has been legal in South Africa since 1994 when the Wiehahn Commission report was released. Based on that report, the government legalized and regulated gambling throughout the Republic. That enabled casino operators to open casinos for South African and foreign players. 
South Africa is a member country of Gambling Regulators Africa Forum, an organization that represents gambling regulators within the African Continent. The goal of GRAF is to create safe and secure gambling options on the African continent. Member countries include Botswana, Kenya, Namibia, Swaziland, Tanzania, Mozambique, Malawi, Zimbabwe, Zambia and South Africa. Each member country regulates gambling for its jurisdiction. GRAF seeks to bring all of these jurisdictions under one umbrella organization which creates continuity for gambling standards on the continent.  GRAF reviews each member nation's legislations and identifies what, if anything, is lacking to ensure the most effective regulations possible. 
South African Gaming Laws
Casino gambling in South Africa is governed by the 1996 National Gambling Act. This act instituted a system of licensed  casinos and a single national lottery in South Africa. Gambling was regulated and uniform norms and standards were promoted.
The Act defined different gambling notions,  and established a protocol for how the 40 allowed gambling licenses would be distributed among the provinces. The National Gambling Board was established to take responsibility for the supervision and regulation of the gambling industry.
In 2008 the National Gambling Amendment Act was introduced.  Among other changes, the 2008 legislation regulated interactive (online) gambling, set standards to protect minors and provided for the registration of players and opening of player accounts. 
Land-Based Casinos in South Africa
South African players can find high-end casinos in regions from  Johannasburg to Capetown as well as in many rural areas in-between. Some of the most popular brick-and-mortar South African casino venues include:
Tusk Rio Casino
One of the most luxurious land-based casinos in South Africa is the Tusk Rio Casino. The casino resort is located in the Tusk Rio Resort in Meiringspark, Klerksdorp, approximately two and a half  hours southwest of Johannesburg. Visitors will find an expansive gambling experience with Vegas-type casino entertainment.
The design of the Tusk Rio Casino was conceived to bring the atmosphere of a  Brazilian street carnival to the gaming floor. The casino features dozens of gaming options including table games of blackjack, baccarat, roulette and poker alongside a large slot machine lobby.
Tusk Rio's slots room is open 24/7. Card and table gamers have access to their preferred games every day from 12:00pm and onward.
Sun City Casino
Sun City, located in Sun City in northwest South Africa, is the setting for the Sun City Casino which opened in 1979. The Sun City casino started out as a small, homelands casino. Today it has become one of South Africa's most opulent casino venues with high-tech gaming machines plus table, lottery, card and slots games.
When you play at Sun City Casino you'll need to bring your passport if you need a foreign currency exchange. The casino supports dozens of currencies. The casino specializes in jackpots games and tournaments in which gamers are invited to compete against each other. Gaming options are available for both low level bettors and  high-stakes players. Betting denominations ranging from 1c to R100 at the Sun City Casino. 
Patrons receive the Sun MVG card which they can use to obtain bonuses. Cardholders enjoy a wide range of benefits including VIP gaming and access to the Salon Privé (private gaming room). The table games open every morning at 11:00a.m. and stay open throughout the night. The casino is open on weekdays, weekends, and public holidays.
High rollers' preferred Sun City Casino games include Punto Banco with a maximum win of R10,000,  R50 minimum Blackjack up to a $5000 maximum and American Roulette where gamers can place bets of up to R500.
The casino's Harlequin's Cocktail Bar features live music and entertainment.
Bethlehem Frontier Inn and Casino
Just north of Lesotho in the Free State, the Bethlehem Frontier Inn and Casino is open to provide visitors with a charming, boutique casino resort that features dynamic gambling activities, lively entertainment, comfortable accommodations and great service.
The casino was designed with a frontier–theme which gives the feel of an old-time gambling salon. There are dozens of slot machines that surround the table games so players can mix up their gambling activities and enjoy slots action in-between the classic games.
MonteCasino
MonteCasino is a Johannasburg-area casino, located next to Witkoppen. The MonteCasino complex is a full entertainment center with restaurants, hotel accommodations, movie theatres and more. 
Gamers have their choice of any of the 21st century gaming machines or old-fashioned card and table games. There are almost 2000 Slot machines at MonteCasino. The casino caters to both high-rollers and low-level betters with denominations that range from 2c to R 100. Players will also find multi-line and multi-coin machines at the MonteCrisco.
Players in South African have their choice of any of dozens of South Africa land-based casinos that can be found in any area of the country.