Nine Secrets to Optimizing your Vegas Vacation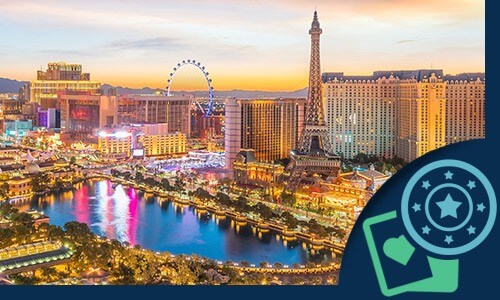 Regardless of whether you're planning a Vegas casino online vacation or are looking for land-based casino entertainment, you'll get more out of your vacation if you plan ahead. 
Las Vegas attracts over 45 million visitors a year. Many people decide to travel to Vegas so that they can experience the thrilling city but they don't get everything that they could out of it because they didn't plan properly.
Regardless of whether you're traveling to Vegas to see the shows, play in the gaming rooms or enjoy the family-centered entertainment, you'll be able to maximize your trip if you plan it out before you book.
Dates
Unless you particularly like to be in the midst of a crowd, you should probably consider the times of the year when it's best to travel.  Las Vegas doesn't have clearly defined high seasons and off-seasons. Obviously, the times of the year when most people are on vacation -- Thanksgiving weekend, Christmas week, etc -- draw the biggest crowds. 
You'll likely also see big crowds in the wintertime when northerners come down for a bit of warmth, CES (Global Stage for Innovation) conference/exhibition week in January draws huge numbers as do big sports-betting weeks such as SuperBowl weekend in February and March Madness in March, etc.  So i you specifically want to be in Vegas during those times, that's when you should come. Otherwise, stay clear until a bit later.  
December can be crowded in Vegas.  In addition to the week between Christmas and New Years, there's the National Finals Rodeo in the middle of the month which always attracts a crowd. 
Summers tend to be slower because of the heat but that's generally the time when families, whose children are on school vacation, come into town. 
It's good to remember that hotel rates are always significantly cheaper for bookings Sundays through Thursdays, other than the weeks of the big events. 
Weather
Speaking of the weather, outside of July and August when it's quite hot, the weather in Las Vegas can be unpredictable. It can get cold enough for snow in the winter but not always. Spring and autumn are usually mild with moderate temperatures that combine with low humidity. 
A word of caution -- summertime temperatures can reach 116 but you might not feel it because it's so dry.  You have to remember to drink a LOT, all the time. People often don't feel themselves getting dehydrated until it's too late. 
Discounted Show Tickets
If you're in Las Vegas, you should see a show.  Las Vegas shows are world-famous and the casinos bring in some of the world's best talent.  One of the biggest local dealers is Tix4tonight, which sells tickets both at local kiosks located around the valley and online.  You have the best chance to get the tickets to the performances that you want if you show up early at the kiosks or book early online. 
Check out the regular ticket prices before you shop so you know if you're getting a good deal -- you can comparison shop at ShowTickets.com and Vegas.com which are two of the other major ticket vendors.. If you're staying in a hotel with a concierge, s/he may be able to help you.  If you're a premium player, talk to your casino host who may be able to score you some tickets for free or for a reduced price. 
Airport Transport
If you're flying into Las Vegas and don't plan to rent a car, you can use the Regional Transportation Commission's  Westcliff Airport Express to travel to Las Vegas.  The Airport Express's stops include Tropicana Avenue and the Strip or downtown. 
Alternately, you can use the Centennial Express, which stops at the Strip, Sands Avenue/Spring Mountain Road, at the UNLV transit center and  downtown. It doesn't take you door to door but it will get you to the general area, from where you can get a cab or ride share. Shuttles are also popular and easily accessible in Las Vegas and they make multiple stop for a good alternative for budget-minded visitors. 
Getting Around 
From end to end the Strip is about 4 miles long.  There are clusters of casinos throughout the Strip but even within a cluster, the walk from one casino to the adjoining one can be quite long. You can plop down at one casino -- perhaps where your hotel is located.  However, if you want the full Vegas experience, you can take one of the free trams. There's a tram that links the Aria, Vdara, Bellagio, Park MGM and the Shops at Chrystals Dawn Express, operated by the Regional Transportation Commission.  The Downtown Express which, as the most economical options, costs $8 for 24 hours or $20 for three days.
Las Vegas also has a monorail that connects the Convention Center to several of the major resorts on the east side of the Strip. The Las Vegas  Monorail doesn't go to and from McCarran International Airport but it can be a convenient option, especially if you're attending an event at the Convention Center or during a time when Vegas is hosting a big event and traffic everywhere in the city is impossible. One-ride tickets on the monorail are $5, and one-day passes $13. Cost for 2 or 3 day passes are $23 and $29, respectively.
Parking
It probably isn't worth getting a car.  Not only is it difficult to drive around Las Vegas but parking costs plenty at almost all the casinos.  You can still find free parking at some casinos including at the Palazzo, Tropicana, Westate, Rio, Orleans, Westgate,  Treasure Island, SLS Las Vegas and the Venetian. Even resort guests must pay at most casino-resorts. 
One cost efficient option might include getting a MLife Mastercard at MGM Resorts, but that's only if you're planning on playing exclusively at MGM properties.
Expect Resort Fees 
All of the resorts on the Strip charge "resort fees" which are obligatory add-ons for the privilege of using the resort facilities -- pool, spa, Internet, etc.  The resort fees don't include parking. Some non-casino properties located off the Strip don't charge these fees.  
Breakfast 
There are dozens of breakfast sites on and near the Strip including Omelet House, Cracked Egg, Rise and Shine, Hash House a Go Go, Metro Diner, Squeeze House a Go-Go, Babystacks, The Egg Works and Black Bear Diner.  Breakfast at these places allow you to save significantly over the cost of an on-Strip breakfast buffet.
Non Gaming Activities
Don't confine your visit to the casinos.  There's plenty to do that has nothing to do with gaming -- some great natural sites, located just outside of Vegas that shouldn't be missed include the Red Rock Canyon National Conservation Area, Vount Charleston Valley (skiing and snowboarding in the winter) and Fire State Park. You can also go to the Clark County Museum in Henderson or the Springs Preserve on the west side to get out in nature and learn about the history of the area
For kids there's the Discovery Children's Museum downtown while adults will enjoy the Mob Museum and the Neon Museum.