4 Scary RTG Video Slots That'll Make Your Blood Run Cold!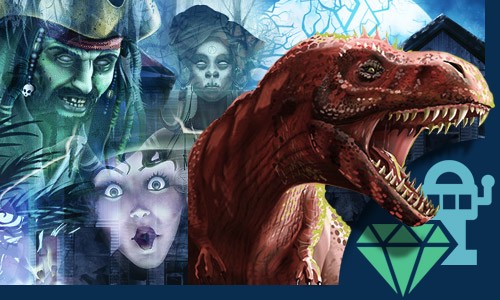 Realtime Gaming (RTG) is known for producing slick functional online casino games.  Themes are exciting and diverse, animations are pretty spectacular and when the gambling gods are smiling down on you, you can bank plenty of cash.  Aside from the happy snappy slots featuring mermaids, elves and lucky leprechauns there's a suite of scary RTG video slots designed to create a frisson of fear in players.
If you're looking for an entertaining way to unleash waves of cortisol in the brain - that human fear hormone that creates the fight or flight response - sign up at Thunderbolt casino and click on one or more of the scariest RTG slots around:
Scary Slot #1 - Ghost Ship Slot  
Ghost ships feature prominently in popular culture.  They can be in the form of the Flying Dutchman, a legendary phantom ship of maritime folklore.  They can also represent eerie real world vessels like the Marie Celeste, a tall ship found drifting aimlessly without crew... living or dead.
These unmanned vessels are said to ply the seven seas, appearing mysteriously through the mist only to disappear seconds later without trace.  To celebrate the fear of the unknown and to acknowledge the great ghost ships of Octavius, Carroll A Deering, the SS Baychimo and the Marie Celeste, RTG developed its own rendition of a vessel adrift; the 5 reel and 25 payline Ghost Ship slot.
Click on the game icon and you'll be assaulted by a suitably scary and decidedly gloomy gaming interface.  The reels are backed by a pitch black scene featuring a shadowy sailing ship backlit by a full moon.  A ghostly bearded captain is wild and returns frequently to announce payouts with a shot of the pistol and dip of the head.  Each toss of the ghost ship is an indication of a scatter-activated payline win, with the prospect of free game time thrown in!
Aside from an adrenalin fuelled gambling experience you're well placed to win lots of lovely loot playing Ghost Ship slot.  In addition to the wilds, scatters and free spins there are two progressive jackpots that can be randomly activated after any reel spin!  Boo!
Scary Slot #2 - Witch's Brew RTG Slot
Witches and warlocks are as scary as can be.  They practice magic, cast spells and bewitch poor unsuspecting folk.  They are the stuff of nightmares and have appeared in hundreds of myths, legends, books and movies.  In the bad old days witches were burnt at the stake.  These days they are the title characters in a feature-full RTG video slot aptly named Witch's Brew!
Open the 5 reel and 25 payline game in your browser and you'll encounter all the paraphernalia of witchcraft.  Bubbling cauldrons, obese bullfrogs, jars of jellied human eyes, smoking candles and the quintessential black cat can be matched on the reels to deliver Rand denominated cash wins.  Find the wide-eyed witch or the dragon's fang and the odds of banking money are dramatically improved as both symbols are wild in Witch's Brew slot!
The big reward for overcoming your fear and entering the witch's vault can be found in the Goblin's Blood feature where up to 125 free spins await.  Factor in a top real money prize of 10,000 coins and Witch's Brew slot may not appear that scary after all!
Scary Slot #3 – Voodoo Magic 
Voodoo is a highly ritualised religion that focuses on the spirits of the dead.  It's a combination of magic and healing and is characterised by voodoo dolls, high priestesses, animal sacrifices and the beating of drums.  To many of us, voodoo is simply terrifying.
RTG has perfectly captured the dark side of Voodoo in its 5 reel and 13 payline slot.  Play Voodoo Magic on your desktop or phone and you're instantly transported to a gloomy forest where the tangled roots of huge trees nearly obscure a poorly lit bungalow.
The reels are packed with spooky symbols that include feathered masks, skull amulets, voodoo dolls, coiled snakes ready to strike, stone daggers and a horrific apothecary consisting of bones, human eyes and powders.  The dull gleam of candles lights up a gaming interface that carries all the iconography of sheer dread.  Voodoo Magic slot really has a scary set-up even for the brave hearts among us.
What isn't too frightening is the high priestess who's wild and pays out the top 2 000 coin prize.  Although the voodoo doll scatter may make your blood run cold it's the key to 25 free spins with a magic multiplier built-in.
Scary Slot #4 – Megasaur         
Ghosts, voodoo and witches may be suitably scary but dinosaurs trigger a primeval fear deep within us.  It's probably because they're apex predators that would have eaten us for lunch.  For once humans are the prey instead of the predator and that's enough to get the fear squirming in anyone's belly.
Although dinosaurs are long extinct they still have the ability to terrify us right out of our wits.  If you want to get the adrenalin coursing through your veins give RTG's 5 reel and 20 payline Megasaur slot a go.  You'll be whisked away to a Jurassic Park-like setting with a volcano spitting lava in the background and dinosaur skeletons adorning the top of the reels.  The big surprise is a progressive jackpot plus a free spins feature guarantee.