Venture into a Galactic Quest like No Other
Venture into a Galactic Quest like No Other
New Games
People have always been fascinated by what is out there in the sky, far from our reach.
Ancient civilisations would leave behind drawings, pointing to specific celestial bodies and associating them with deities and supernatural forces that fuel our life on Earth.
Watch the video
With the first telescopes appearing in the 17th century, all those stars and planets became closer to us. There is so much more to explore about our indescribably enormous universe, but Thunderbolt's new video slot Pulsar allows you to take a peek into a specific area of the cosmos where neutron stars explode and bring you lucrative wins.
Pulsar takes you to outer space – in the background we see a distant galaxy and a swarm of stars and constellations, while up close we can see the familiar planets of our solar system. The interface is mobile-responsive, so if you choose to play on your mobile or tablet the game will show an adapted layout in portrait view, looking juts as mesmerizingly gorgeous as on desktop. The reels grid is quite unusual – instead of conventional reels, we can see 5 columns of hexagonal cells forming a structure similar to a honeycomb. When you hit the Play button, powerful lasers will shoot symbols into positions and if there are wins formed from left to right, the matching icons will disappear and leave room for new symbols to fill in their spots. It's cascading wins in space!
Behold the Neutron Stars Explosions
There are 20 fixed paying lines in the game, but base game wins paired with cascades is not all this stellar slot has to offer. Keep your eyes peeled on the Neutron Stars symbols. They are quite special, appearing randomly and holding their position until they explode. Each time a Neutron Star appears, it is randomly assigned a countdown value from 3 to 1. Each following cascading win or spin will decrease the value of the counter by 1. Zero on the counter ignites the explosion and all the symbols in that particular star's range will be destroyed.
There are four different Neutron Stars, each with a unique explosion pattern. The Green Neutron Star explodes from left to right, the Blue Neutron Star explosion goes from below and then upwards, the Pink Neutron Star detonation pattern goes left, right, up and down (like a cross), and the Red Neutron Star outburst displays an "X" pattern.
Available across all platforms. Play Pulsar anywhere, anytime.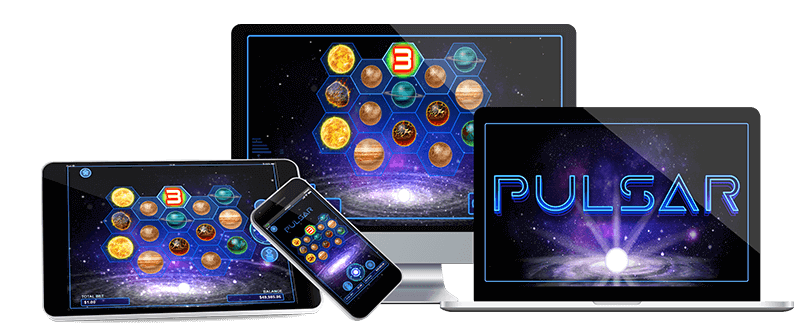 MORE NEWS