Jump in and try Frog Fortunes – our brand new slot
Jump in and try Frog Fortunes – our brand new slot
New Games
Experience the magical rainforest featuring a lucky golden frog.
Thunderbolt Casino's golden new slot – Frog Fortunes – takes you deep into a magical rainforest. Amongst all the dense foliage and forest-dwelling creatures, you'll find a mythical golden frog guarding over untold treasures. Are you ready to take a leap into the unknown and return with amazing tales to tell and, perhaps, a small fortune?
This slot has a standard format of 3-lines, 5-reels, and 234 pay lines, but the similarities to other slot games end there. Instead of the expected wild and scatter symbols, Frog Fortunes has some truly explosive surprises instead! The gameboard has a unique setup, with symbols appearing in interlocking hexagonal shapes instead of the standard straight lines. Symbols include a variety of brightly-coloured precious gemstones and ancient animal icons. At any time symbols can explode in a variety of blast patterns, affecting the surrounding symbols. Both the random exploding symbols and surrounding symbols in the blast range are changed, which can form winning combinations. If a winning combination is achieved, the winning symbols will disappear and the cascading reels feature is triggered, filling the empty spaces with different symbols and therefore even create even more chances to land more big wins and free spins.
And, of course, the frog itself is an omen of good luck and prosperity in many different cultures, so Frog Fortunes offers plenty of opportunities to try your luck and see if you can make your very own fortune right here at Thunderbolt Casino!
Available across all platforms. Play Frog Fortunes anywhere, anytime.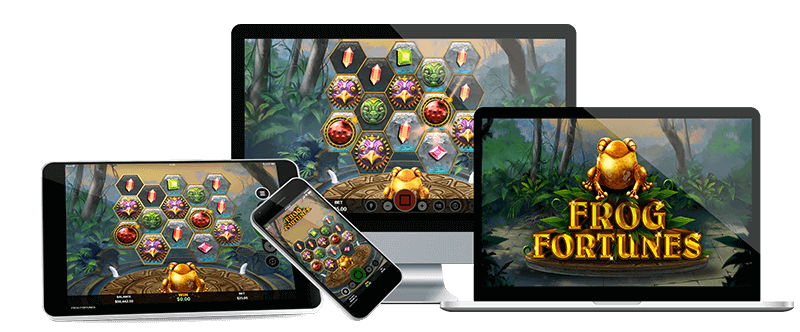 MORE NEWS