Submerge Yourself in A Sea Of Prizes
Submerge Yourself in A Sea Of Prizes
New Games
If you feel the time has come to try out something new and ambitious, then take a moment
and savor the amazing new casino game from RTG. Designed as a shooting game, a novelty in the online casino market, Fish Catch is a true breath of fresh air. Instead of spinning the reels you'll be firing a canon, shooting a machine gun or using a bazooka to catch generous sea creatures, each with their own unique value (in ZAR that is).
The gorgeous underwater setting stretches across 4 different environments – 4 rooms at the bottom of this beautifully designed marine ecosystem. You will see plenty of coral, seashells, sea creatures and amazing underwater sculptures but don't let that distract you from your objective – catching rare fish! The bigger the catch, the prouder the fisherman!
To become the top winner in this new exciting game, you ought to log into your Thunderbolt account, start the game, select a room from which to play and choose the fish species you're main aim is to catch. Then get right to it! Each fish you catch will award different prize amounts, right from the very first hit.
How the game works
Once you load the game for the first time you'll be given four options, four locations to choose where you'll fish from (changeable by selecting another room located at the top of your screen once the game has started). Keep in mind that each fish has a different value, so select the preferred one in the beginning as this will determine your bet per bullet. Before you can start shooting, you'll need to pick a cannon to shoot with. Each cannon carries a different multiplier and affects the size of any potential score.
Each fish you see swimming by has its own payout amount and the ones with a higher payout will require more bullets before being caught. Payouts do however change depending on the minimum bet you select.
While you're fishing around for these wiggly prizes, the Mermaid's Luck feature may occur at any moment, breaking the silence and adding winnings to your catch. This special feature is presented via a bonus wheel and can pay up to 250 times the bet.
Funds will only be deducted from your balance once they hit an actual fish, stray bullets don't count as anything.
Stray bullets will ricochet off the border at an angle until they hit a fish.
Please note that this game does not support the use of bonuses
Smells Fishy, But Pays Out Great
As a unique shooting game, RTG's Fish Catch does not offer a progressive jackpot, nor free shots but you will have a decent betting range to benefit from and a top reward of 1,000 times the bet. By taking your fire power to full blast you'll stand to win x10 multipliers each time you hit a fish. Keep an eye on your competitors and you'll learn when to be delicate and when to be aggressive so as to triumph in this amazing event. All Thunderbolt account users are free to compete and enjoy Fish Catch for the first time starting 16 January 2019.
Play anywhere, anytime. Available across all platforms.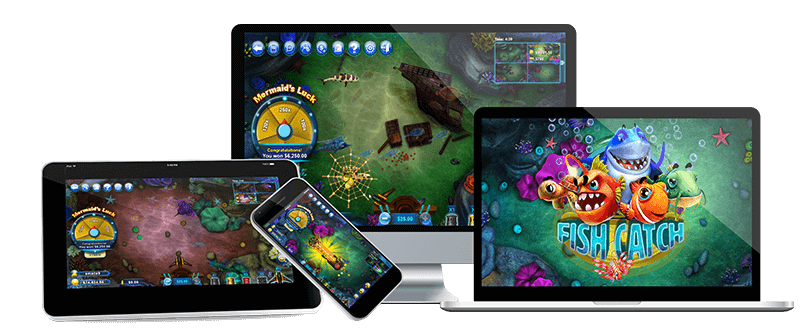 MORE NEWS