Asgard Deluxe – The Game of the Gods
Asgard Deluxe – The Game of the Gods
New Games
Asgard returns in a modernized version of the already popular slot
Asgard Deluxe is a 5-reel, 3-line video slot with an impressive 243 paylines offering plenty of winning chances. In this great new slot from Spin Logic, you are invited to enter the hallowed halls of the Norse gods and see what fortune awaits you.
The action centres on Asgard – a place among the heavens where all the most important gods live, each in their own golden-roofed palace or hall. Here you'll encounter the supreme deity Odin; Odin's powerful hammer-wielding son Thor, who is the god of thunder; Freya, a beautiful and virtuous goddess; and Loki, a mischievous, shape-shifting god who is often up to no good and not to be trusted.
The 'W' wild symbol not only helps form winning combinations in the base game but also doubles the prize amount when it does so. Any base spin may also trigger random wild reels, turning up to 5 reels Multiplying Wild! The wild symbols also do some amazing winning work during the free games rounds, depending on which bonus you pick.
The scatter symbol is the sacred tree called Yggdrasil, whose branches reach up into the heavens and who unifies all the worlds in Norse mythology. In the game, landing two scatter symbols pays out, and three or more appearing on the reels triggers the Free Games Picking Bonus portal. Here, you are presented with four exciting choices: 15 free games with 3x multiplier wins; 20 free games with bursting wilds; 25 free games with multiplying wilds; and lastly, 30 free games with cascading multiplying wins. So many choices, so many winning options!
All in all, this slot offers great entertainment value with innovative features that will keep you spinning and winning.
Available across all platforms. Play Asgard Deluxe anywhere, anytime.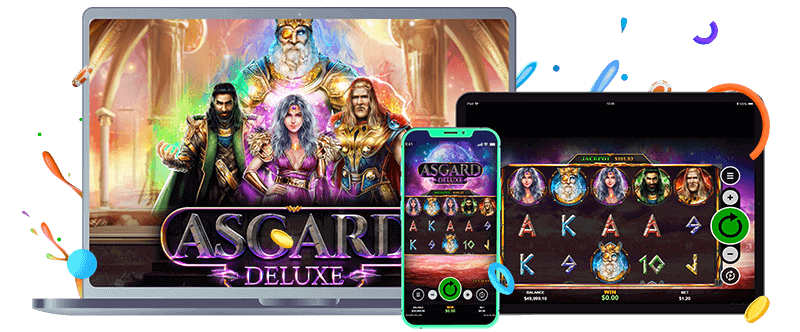 MORE NEWS