Thunderbolt Casino Wins Best Online Casino for 2015
Thunderbolt Casino Wins Best Online Casino for 2015
News
Ever since Thunderbolt Casino hit the market in 2014, South African casino players have been going crazy for the brand.
The casino has become such a success that it was voted Best Online Casino for 2015 by the reputable gambling portal GamblingAfrica.com. Thunderbolt Casino's success has been further epitomized with the purchase from another big casino company called the Springbok Group owner of another reputable online casino that tends mostly to South African players that enjoy online casino games.
All that has happened in 2015 was a result of the tireless work of Thunderbolt's staff including the customer support professionals, IT support team, brand managers, and everyone in between that has contributed towards the casino's success. The road to even bigger heights has only started for Thunderbolt Casino, but all that has happened so far has been encouraging for the casino officials to continue the good work.
Some of the highlights besides the admittance of Thunderbolt Casino into the Springbok Group which is an acknowledgment of all the hard work in itself include the ever increasing player base, improved bonus offers and more casino games by adding the latest RTG releases. Now Thunderbolt Casino has more than 300 casino games that rain down heavy loads of cash into players' pockets each day.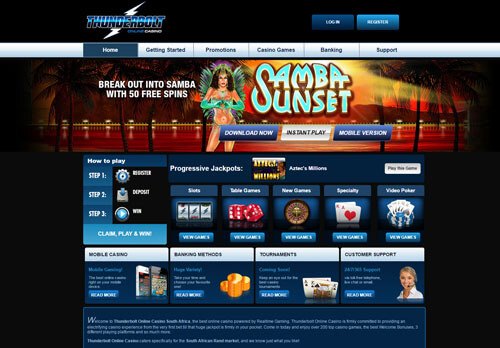 With each new game addition Thunderbolt Casino has surprised its loyal players with bonuses and free spins. Such case was the addition of the Bubble Bubble slot that was promoted with a 2000 Rands bonus and 60 free spins to everyone that wanted to try the game for the first time.
Moreover, Thunderbolt's desire to be generous on special occasions has led to some great bonus offers, such as the bonuses that were offered on the International Men's Day, Guinness World Record Day, and Halloween etc. If you include all the weekend offers that are regularly posted it is hard not to like Thunderbolt. Moreover, there have been big competitions such as the November 10,000 Rands Freeroll Slots Tournament and Game of the Month competitions.
When you take a look at all that has happened in 2015, it's no wonder why ZebraCasino.co.za has decided to proclaim Thunderbolt Casino as the Best Online Casino for 2015. This year too has started on the right foot with new game additions such as RTG's new progressive slot called God of Wealth. There are more surprises coming your way so stick around with Thunderbolt Casino and find out. South African online casino players have much look for in 2016.
MORE NEWS