Lawrence Ho of Melco Resorts Takes On Australian Casino Entertainment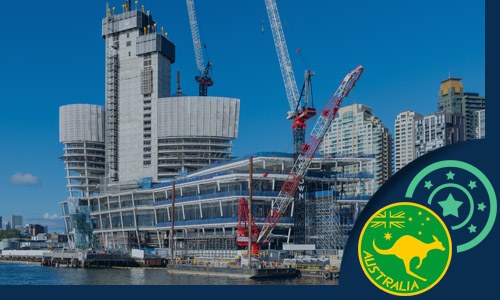 The Australian casino industry is now getting ready to welcome in Lawrence Ho, the Hong-Kong based billionaire who has already moved Melco Resorts and Entertainment into position as one of Asia's top casino players. Ho will bring his vision for Thunderbolt casino-type gambling entertainment into Australia as the Crown Resorts new major shareholder. 
Lawrence Ho is well known in the Pacific region casino industry. He is the executive chairman of Melco, which runs a network of casinos and integrated resorts in the Philippines and in Macau. Lawrence Ho was also a joint venture partner with Crown for 12 years. During that time Ho and James Packer, Australian billionaire and part owner of Crown resorts, developed a close relationship.
Last week Packer sold 20% of his shares in Crown Resorts to Ho and it's likely that he will sell more shares in the near future.
Family Business
Lawrence Ho and James Packer are both in their respective families' business. Lawrence is the son of Dr Stanley Ho, the controversial 97-year-old godfather of Macau gambling and a reputed kingpin in the Macau triad criminal gangs that control much of the underworld in Macau – specifically those that are involved in loan sharking in the Macau casinos.
Stanley Ho built Macau's first casino in 1964. Over the course of the next 40 years he enjoyed a monopoly in what was then a Portuguese colony. He ferried players into Macau from Hong Kong, both during the time that Hong Kong was still an English colony and after Chinese rule was re-established. Stanley Ho became one of the island's richest people.
Law enforcement officials believe that Stanley Ho was closely involved with the "junket" operators that bring high-spending gamblers from mainland China. The gangs then lend money to the gamers, who are strictly limited as to the amount of money that they're allowed to take out of China. They extract the repayment – plus "interest" – through coercion and other criminal means.  Authorities have been concerned about Ho's involvement in these triads for many years.
Conditions
In 2009 the state of New Jersey in the United States accused casino operator MGM Entertainment, of questionable conduct based on MGM's association with Pansy Ho,  Stanley Ho's daughter, through their jointly-owned Macau casino.
The state, which regulates the Atlantic City gambling hub where multiple casinos are located, cited documents that stated that Stanley Ho had direct associations with known gangsters. The New Jersey regulators said that Pansy Ho's relationship and financial ties with organized crime figures and with her father made her "susceptible to influence by unsuitable persons".
According to the New Jersey authorities, their recommendations were based on a 2002 report on organized crime activity in Macau. The report, published by the Queensland University of Technology, said the VIP rooms in Ho's casinos created a "lawless space" which opened up the gaming industry to organized criminal gangs. The report said that prostitution, loan-sharking, drugs and debt collection were prevalent in those VIP rooms.
The NJ report influenced the NSW Independent Liquor and Gaming Authority which approved Crown's Barangaroo development. At that time the Authority insisted that Crown – which was involved in a joint venture with Melco in Macau - promise that Stanley Ho be barred from any involvement in Crown's activities.  According to the agreement,  Crown was obligated to prevent "any new business activities or transactions of a material nature between Stanley Huang Sun Ho or a Stanley Ho associate and Crown".
The Deal 
According to the deal, Lawrence Ho will purchase almost 50% of Australian casino mogul James Packer's  stake in Crown Resorts Limited. There will be two stages to the deal, the first one in early June and the second in late September.
Melco said that, pending regulatory approvals, it will also purchase board seats. News of the deal caused Crown's stock to drop 3% on the Australian Securities Exchange.
Packer's net worth is now valued at approximately $3 billion, based on the $850 million he'll likely receive from the sale of his stock (net of taxes). His estimated net worth has dropped $600 million since January.  
Packer's father, Kerry Packer, was once considered one of Australia's most successful entrepreneurs. He owned Australia's leading television network and other media. Kerry Packer inherited a media company from his father, Sir Frank, which he developed into a publishing and broadcasting empire worth $5 billion.
James Packer inherited his father's empire but sold most of the Packer family media assets to a Hong Kong-based private equity firm. He then moved the focus of the family business into the casino industry and built up Crown Resorts.  
Melco and Crown have done business before. In 2004 the two companies partnered to develop and operate casinos in Macau. In 2017, the partnership ended when Packer sold his Macau assets back to Melco to focus on his Australia-based casinos.